Alternatives, Inc.
Alternatives, Inc. is a leader in community corrections and re-entry strategies for offenders returning to the Billings community.
Learn More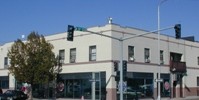 Alpha House is a men's Pre-release Center (PRC) located in Billings, MT serving as an intermediate step between prisons and the community. Offenders live in this PRC under twenty-four hour a day supervision for approximately six months.

Passages comprises a 74 bed Women's Pre-release Center, 50 bed Assessment/Sanction/Revocation Center, and a 50 bed Alcohol and Drug Treatment Program.

Alternatives, Inc. offers Jail Alternatives programs in Yellowstone, Stillwater, and Carbon Counties.  These services are designed to reduce jail overcrowding, teach responsibility, keep indigent offenders out of jail, and save the taxpayer money.
Our Mission
We promote public safety and challenge offenders to become responsible productive citizens.
Working Here
Why work here? Corrections is a challenging and rewarding career.  Alternatives, Inc.'s clients are at a crossroad in their lives where the opportunity for growth and change is evident and the potential for relapse is present.
2120 3rd Avenue North
Billings, MT 59101